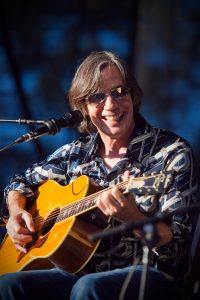 No Jackson Browne concert would be complete without such signature songs as "Rock Me on the Water," "Running on Empty," "Doctor My Eyes" and "For Everyman."
Browne, backed by a four-piece band that featured longtime friend David Lindley, delivered them with the energy, flair and passion that fans have come to expect Friday night (July 30) at Chateau Ste. Michelle.
But it was Browne's short opening set with Lindley that set this tour apart from Browne's previous outings. The two collaborated on the recent, must-have, live album "Love Is Strange" and have not toured together since a 2006 trek through Spain. On stage, the two were electrifying.
The pair of old friends harmonized on favorite songs, bantering back and forth with a brotherly show of humor. Browne teased the bewhiskered Lindley about his brightly contrasting white socks and blue shoes, and Lindley good-naturedly shot back with a comment about Browne's attire: "That's the best polyester shirt I've seen in years."
Trading lead vocals, the pair opened with Warren Zevon's gripping "Seminole Bingo" and Bruce Springsteen's poignant "Brothers Under the Bridge," about homeless Vietnam veterans. Then, Browne offered his iconic "For Everyman," followed by "Looking East," before Lindley took over for a solo turn highlighting his instrumental talents.
Lindley covered Blind Willie Johnson's smoldering "What Is the Soul of a Man?" before wrapping up the opening set with his humorous "Cat Food Sandwiches," an ode to the worst food a musician could endure while on tour (Lindley introduced the song, which he described as "a deep blues," with a story about a culinary misfortune at a Sausalito, Calif., music festival).
It was a perfect summer night for an outdoor concert, warm and sunny long into the evening. Among the concertgoers was Gov. Christine Gregoire, who had a seat just a few rows from the stage.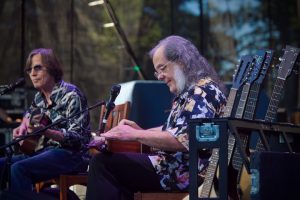 The second half of the show featured Browne's band of nearly two decades: guitarist Mark Goldenberg, bassist Kevin McCormick, keyboardist and background singer Jeff Young, and drummer Mauricio Lewak. A wonderful addition to the mix were singers Chavonne Stewart and Aletha Mills, whom Browne met in 2001 while Stewart and Mills were attending Washington Preparatory High School in South Los Angeles and singing in the school choir. The two added stirring, gospel-influenced vocals to the blend.
The band set kicked off with "Off of Wonderland," "Giving That Heaven Away" and "Just Say Yeah," a song about Jackson's girlfriend of 10 years and their enduring relationship.
Browne and the band followed with "In the Shape of a Heart," the most powerful song of lost love that he has ever recorded. The set continued with a broad array of themes and emotions: "Your Bright Baby Blues," "The Pretender," "Fountain of Sorry," "For a Dancer" (featuring Lindley on fiddle) and "My Problem Is You."
While introducing his iconic "The Pretender," Browne announced that the tour was "plastic free" and touted the virtues of stainless steel water bottles. He also mentioned a recent L.A. concert, attended by many of his heroes in the music and film industries, as an inspiration. "I'm not going to drop names," he said, "but it was great."
Jackson and company closed the main set with the crowd-pleasing classics "Doctor My Eyes," "Running on Empty" and "Take It Easy," which he wrote in the early '70s with Glenn Frey of the Eagles (it was the band's first single).
The two-song encore packed a powerful punch, first with "Mercury Blues" (a boisterous 1940s ode to the American-made car that will be phased out beginning this year) and finally with a moving, reflective "I Am a Patroit," the Little Steven song that epitomizes Browne's balance of patriotism and dissent.
The photos in this post were taken by former Seattle Post-Intelligencer photographer Paul Brown. Visit his Web site here.
Follow this link to Jackson Browne's official Web site. And read a review of Steve Martin's recent concert at Chateau Ste. Michelle here.
Here's the set list for Browne and Lindley's concert: