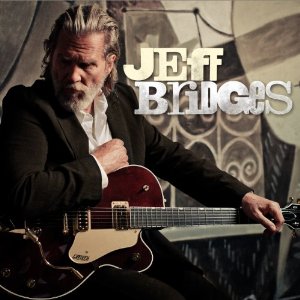 By GENE STOUT
The real Bad Blake drinks wine, not whiskey.
Movie star and musician Jeff Bridges, who portrayed down-and-out, whiskey-swilling country singer Bad Blake in the 2009 movie "Crazy Heart," was sipping Chateau Ste. Michelle's finest when he took the stage Sunday night, Aug. 28, at the winery in Woodinville.
Backing him was his five-piece band, the Abiders (an obvious reference to the slogan "The Dude Abides" from the Bridges cult movie "The Big Lebowski"). Among the band members was Texas singer-songwriter and fiddler Carrie Rodriguez, who launched her career at the 2001 South by Southwest music festival in 2001. Rodriguez sang duet on "Nothing Yet" and added a lot of feistiness to "She Lay Her Whip Down."
Bridges, with his lovable rough edges and easy-going nature, drew a capacity crowd to the sprawling venue for a relaxed performance of rugged country and Americana songs, among them a few Bridges originals as well as tunes by John Goodwin, Stephen Bruton, T Bone Burnett and Greg Brown.
The affable star was much like Bad Blake in "Crazy Heart." "I'm up here with a helluva band," Bridges bellowed before introducing Rodriguez, Chris Pelonis (electric guitar), Randy Tico (double bass), Tom Lackner (drums) and Bill Flores (lap steel guitar). And then there was Mason, the band's very busy guitar tech; Bridges seemed to enjoy teasing him.
Concertgoers were enthralled by the veteran actor and son of Lloyd Bridges of TV's "Sea Hunt." And Bridges was clearly thrilled to be among his Seattle-area fans on the final night of a tour supporting his recent solo album, as well as the "Crazy Heart" soundtrack. Among his celebrity friends who attended the show were glass artist Dale Chihuly and his wife, Leslie. Bridges even said that the eye patch he wore in the movie "True Grit" was an homage to Chihuly, who always wears one in public.
Bridges has a strong connection to Seattle. His friend and fellow actor Tom Skerritt lives here, and Bridges filmed three movies here, "American Heart," "The Fabulous Baker Boys" and "The Vanishing."
Another curious Seattle connection is Seattle street musician Richard Peterson, who taught himself how to play piano and trumpet by studying an album of musical cues for the TV series "Sea Hunt."
Bridges appeared on stage to introduce Peterson, a longtime Bridges fan who called him "son of 'Sea Hunt.' " Peterson, who met Bridges in Seattle during the filming of either "American Heart" or "The Fabulous Baker Boys," offered a short set of "Sea Hunt" music that was oddly entertaining, if not outright bizarre. Given the warm introduction by Bridges, Peterson received a polite reception from the somewhat puzzled audience.
The Oscar-winning actor opened his own set with the drawling, relatively uptempo "Hold on You" from the "Crazy Heart" soundtrack, followed by the zydeco-flavored "I Don't Know" featuring Rodriguez.
Earlier in the day, Bridges had discovered that a local mayor had declared Sunday "Be Kind to Everyone Day," and with a sense of amusement introduced "Everything But Love" and Greg Brown's "Blue Car."
Bridges' singing voice recalls those of Kris Kristofferson, Leonard Cohen, Kenny Rogers and even Neil Diamond. The set was stocked with such gems as "The Quest," "Slow Boat," "Fallin' & Flyin' " and the rocking "What a Little Bit of Love Can Do."
The sole encore set kicked off with the reflective, Oscar-winning "The Weary Kind," followed by Bob Dylan's "The Man in Me" and The Byrds' "So You Want to Be a Rock 'n' Roll Star," with Peterson sitting in on piano. The rollicking jam closed the show on a high note.
During the final bow, Peterson repeated an earlier invitation for KOMO-TV's Dan Lewis to (please) come to the stage. Who knows whether the music-loving Lewis was actually there – or what his connection to Peterson may have been.
Click here to read a review of the recent Steve Miller Band concert at Chateau Ste. Michelle.