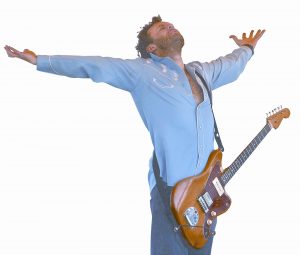 In the raucous, fun-loving era that preceeded grunge, bands such as Jim Basnight and the Moberlys rocked Northwest clubs with an infectious brand of power pop that still sounds great today.
The Moberlys, led by singer-guitarist Basnight, and their peers were links between early Northwest bands such as the Sonics and Wailers and the grunge era that spawned Soundgarden, Alice in Chains, Nirvana and Pearl Jam.
"We Rocked and Rolled: The First 25 Years of Jim Basnight — The Moberlys and Beyond" is now available from Seattle's Precendent Records through Not Lame Recording Company and CDbaby.com.
The collection features such treasured, new wave-inspired songs as "Live in the Sun," "I Need Your Love," "We Rocked and Rolled" and "Hello Mary Jane." There's also a bonus track: "We Rocked and Rolled 2008."
Trouser Press once described Basnight as a "startlingly talented power pop titan." His blend of pop hooks and grinding garage-rock were hard to beat. Yet Basnight and the Moberlys never got the recognition of such fellow bands as The Heaters (later The Heats) and The Cowboys. Then in the '90s, Basnight led the Rockinghams.
Today, the Jim Basnight Band carries on the Moberlys tradition, performing old favorites as well as newer material. The band's blend of styles includes early rock 'n' roll, punk, blues, alt-rock, soul and Americana.
The band includes Basnight, drummer Brad "Mr. D" Dolsen ("think Dino Danelli meets Gene Krupa," Basnight says of Dolsen), bassist Garrett Gue; and saxophonist, guitarist, flutist and vocalist Mikel Rollins.
The Jim Basnight Band performs at 9 p.m. Friday, June 12, at the Twisted Cork Wine Bar at the Hyatt Regency Bellevue. Reservations: 425-637-0808.
The show will include songs from "We Rocked and Rolled."