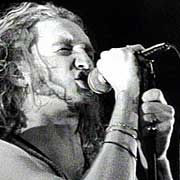 The eighth annual Layne Staley Tribute and Benefit Concert will take place Aug. 22 at the Showbox at the Market.
The event beginning at 7:30 p.m. will feature a solo acoustic performance by Ed Kowalczyk, the singer and guitarist for rock band Live. Also performing are Seattle band Second Coming, whose members Johnny Bacolas and James Bergstrom performed with Staley in two side bands.
Staley's mom, Nancy McCallum, will also perform at the event, which falls on what would have been Staley's 42nd birthday.
The influential Alice in Chains singer, a key player in the Seattle rock explosion of the late '80s and early '90s, died in April 2002 of a drug overdose.
All proceeds will benefit the Layne Staley Fund, a nonprofit 501 (c)(3) organization created in 2004. The organization is dedicated to turning the tragedy of Staley's death into a source of hope for those who suffer from chemical dependency.
Donated funds and proceeds from events and merchandise support local chemical dependency facilities, drug education and outreach programs.
Tickets, $25, go on sale at 10 a.m. Saturday, June 13, at all Ticketmaster outlets and can be charged by phone at 206-628-0888. Tickets will also be available at the door on the night of the show for $28.