By MIKEL TOOMBS
May Day events in Seattle created quite a "ruckus," as a certain local publication put it.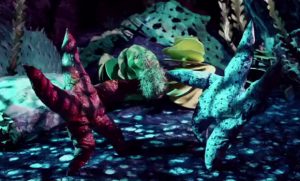 And now one May night, Tuesday the 29th, also should cause quite a commotion here. That's thanks to shows by the likes of Hilary Hahn and Hauschka, performing together at The Neptune, and acclaimed new Brooklyn (naturally) indie-folk band Leland Sundries, gracing the Comet Tavern on Capitol Hill.
If "Silfra," the new album by Hahn, considered by some to be one of the world's finest classical violinists, and modernist composer Haushka, known by some as Volker Bertelmann, sounds like two worlds colliding, that could be because it was recorded in Iceland near the same-named spot where the American and Eurasian tectonic plates do battle.
Or maybe it's just two world-class musicians sparking off of each other's talent.
Silfra is known as a diver's paradise, which perhaps helped inspire the fantastical video of Hahn and Hauschka's "Bounce Bounce," directed by
stop-motion animator Hayley Morris using found objects from her (you guessed it) Brooklyn neighborhood.
Meanwhile, the Americana-drenched Leland Sundries are decidedly less worldly, but their debut EP, "The Foundry," already has earned some intriguing comparisons. Some of the starkly low-key CD's six songs were deemed "Johnny Cash-worthy" by a Village Voice reviewer, and the band and singer-songwriter Nick Loss-Eaton, a music publicist, have been linked to The Band and Lou Reed, Bonnie "Prince" Billy and Elvis Perkins (the latter might be the most apt reference).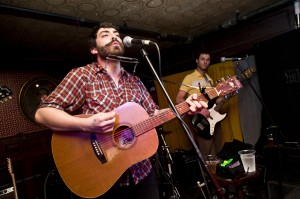 "If you like Leonard Cohen, this will be right up your alley," Magnet magazine ventured. "Cohen has been an influence on us, but a secondary influence," Loss-Eaton said of the legend who has gone from celebrating the "Tower of Song" to playing the Arena of Rock (Cohen performs Nov. 9 at Seattle's KeyArena).
"I'd say that it's always been a songwriting goal of mine to let imagery tell the story," Loss-Eaton added, "and that's something that Cohen does, as well."
Visit the Hahn & Hauschka website here. And follow this link to the Leland Sundries website.
(Mikel Toombs is a frequent contributor to GeneStout.com. Read his recent post on Will Oldham here.)