Here's a gallery of cool photos of Marky Ramone's Blitzkrieg concert last Thursday (May 6) at Snoqualmie Casino.
Ramone, of New York's famous punk band, The Ramones, performed a rare Seattle-area show — actually a warmup gig — before the start of a European tour. Those lucky enough to hear about the show and get tickets found themselves in musical cross-fire hurricane at the Ballroom at Snoqualmie Casino.
Backed by his band members, including former Misfits singer Michale Graves, lead guitarist Alex Kane and bassist Clare B, Ramone's Blitzkrieg thundered through more than 30 songs, among them "Rockaway Beach," "Lobotomy," "Commando," "Beat on the Brat," "Rock N Roll High School," "Poison Heart," "Pet Cemetary" and "I Wanna Be Sedated." (Kane and Clare B also play in an L.A. band called AntiProduct.)
Here's what concertgoer Stephanie Savoia, wife of rock photographer Mike Savoia, had to say about singer Graves: "(He) has a voice perfect for this band. Close your eyes and you don't know that you aren't actually seeing The Ramones back in 1989 at CBGB. My favorite part wasn't his voice or his constant movement. It was the fact that the man's pants were being held together with a roll of black Duck Tape."
The final encore featured "Have You Ever Seen the Rain," a new single titled "When We Were Angels," "It's a Wonderful World" and finally, "Blitzkrieg Bop." After the show, the band met with fans and signed autographs. Preview the band's new single here.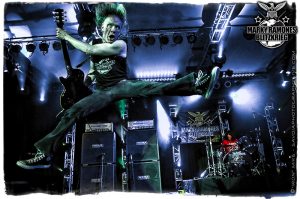 Ramone, who launched a clothing line with longtime friend Tommy Hilfiger last year, will be the subject of an upcoming documentary titled "The Job That Ate My Brain." Ramone has been a DJ on Sirius/XM Satellite Radio for five years, hosting "Marky Ramone's Punk Rock Blitzkrieg," so hence the name of his current touring band.
Ramone also has his own brand of pasta sauce. "Marky was pretty sedate backstage until we asked about his pasta sauce. I think he's a bit overwhelmed by its success so far," Stephanie wrote. Watch a video here.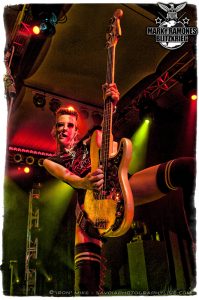 The photos in this post were taken by Northwest photographer "Iron" Mike Savoia. Savoia also shot photos of the recent Magic Carpet Ride show at the Hard Rock Cafe. Read about it here.
Check out Ramone's MySpace page here.