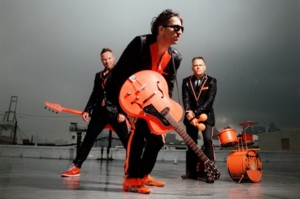 By GENE STOUT
A "random" meeting by Pearl Jam bassist Jeff Ament and singer-songwriter Joseph Arthur in New York more than a dozen years ago has led to the formation of a new group, RNDM, featuring Ament, Arthur and drummer Richard Stuverud, who collaborated with Ament in the band Three Fish.
RNDM 's debut album, "Acts," was released Oct. 30 on CD, vinyl LP and digital formats through Monkeywrench Records/RED in the United States and Canada and Monkeywrench/One Little Indian Records everywhere else.
Now Seattle music fans can hear the band (pronounced "Random") play live Tuesday, Nov. 27, at Showbox at the Market. The show is part of an 18-date North American tour that began Nov. 2 in New York and concludes in Seattle. Get the details here.
"Acts" was recorded last spring in Montana, with Pearl Jam engineer Brett Eliason at the boards. Nearly 20 tracks were pared down to a 12-song album featuring such tracks as "Modern Times," "The Disappearing Ones" and "Hollow Girl." Listeners will notice that Arthur's playing is edgier than on his solo albums.
"It felt like those first bands you're in, where the first few weeks you ate and slept and breathed the music that you were working on," Ament said of the jam and practice sessions leading to the recording project. "All you did was hum those songs until you got to the next practice. I was completely open to whatever was going to happen, and I know Joseph was too."
Since meeting in Brooklyn, N.Y., in 1999, Ament and Arthur stayed in touch and finally reconnected at a KEXP-sponsored lunchtime show in Seattle in 2010. Ament invited Arthur to come to his Montana home to jam, but a song came together unexpectedly before they were able to make plans to meet in Montana.
While Ament was working on his solo album, he imagined Joseph's voice instead of his own on a particular track, "When the Fire Comes." After sending Arthur an email to gauge his interest in collaborating on the song, Ament received a finished track from Arthur in only two days. At that point, the two knew there was a creative spark.
Ament and Arthur performed the song live at Pearl Jam's 20th anniversary concert last summer at Alpine Valley in Wisconsin. A studio version of the song was released as a CD single commemorating the event; it also appears on Ament's current solo album, "While My Heart Beats."
English rock star and Genesis lead singer Peter Gabriel signed Arthur (from Akron, Ohio) to his Real World label in the mid-1990s, and Arthur released his debut album, "Big City Secrets," in 1997. Arthur later recorded independently, releasing a double album, "Redemption City," this year.
To learn more about RNDM, visit the band's website here.