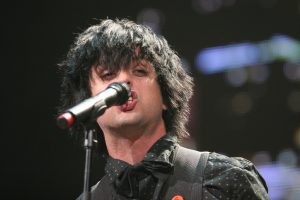 The Fourth of July weekend started early for fans of Green Day.
The veteran punk-rock band from Berkeley, Calif., kicked off its national tour Friday night at Seattle's KeyArena with flames, confetti and bombs bursting in air. Despite a few minor glitches, the show went off with a bang.
Green Day's generous, two-hour show is one of the summer's hottest concert tickets. If the rest of the tour goes like Seattle, Green Day will be near the top of the heap when all the receipts are tallied.
What began as a feisty punk band with an uncertain future more than two decades ago is now an arena-rock powerhouse with a new generation of fans. Singer-guitarist Billie Joe Armstrong, bassist Mike Dirnt and drummer Tre Cool turned their politically charged punk anthems into summer party songs. These veteran punks are master showmen and polished musicians, with a dose of Paul Revere and the Raiders goofiness coursing through their veins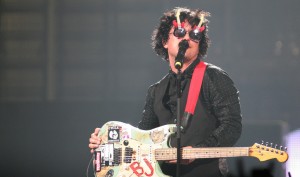 The KeyArena show was incredibly intense and powerful from start to finish. Armstrong kept fans fully engaged — as if they really needed any help — by tossing T-shirts into the crowd, firing a water gun at fans and even inviting a few of them onstage to sing. Delirious fans pumped their fists, waved their arms — and did "the wave." Impromptu singalongs added to the fun, especially during "Longview," a Green Day classic that anchored the center of the show. The church of Green Day was clearly out for a good time.
But Armstrong drew the line at cell phones, telling fans to put them away and stop calling friends. "If they're not here, f**k it!" he yelled.
The band's new album, "21st Century Breakdown," is a punk-rock opera that speaks to the current generation of Americans struggling in post-Bush America. There is great compassion in such lyrics as, "My generation is zero/ I never made it as a working-class hero." Despite the evening's party vibe, a number of songs were underscored by feelings of melancholy and loathing.
The show began explosively with such songs as "21st Century Breakdown," "Know Your Enemy," "East Jesus Nowhere" and a pyro-enhanced "Holiday." A giant LED screen displayed images of the New York skyline at night, as well as eye-popping videos linked to each song. There was even a digital display of concert posters from the band's distant past.
Assisting the power-punk trio were guitarists Jason White and Jeff Matika and multi-instrumentalist Jason Freese, who pulled out his saxophone during a raucous, frat-house medley of "King for a Day," The Isley Brothers' "Shout" and Ben E. King's "Stand by Me."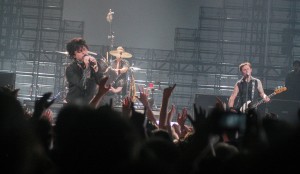 The crowd nearly lost it when Armstrong said, "We are the Green Day band, officially from Seattle, Washington!"
The epic, anti-war song, "21 Guns," one of the few somber ballads in the Green Day repertoire, asked the question, "Do you know what's worth fighting for/ When it's not worth dying for?" The song was enhanced by a waterfall of pyrotechnic sparks, and fans sang along movingly.
The band began a lengthy encore with "American Idiot," the title song from its powerful 2004 anti-war, anti-Bush album, which resonated with a new generation of fans confronted with a divisive, unpopular war.
The final moments of the show featured such songs as "Jesus of Suburbia," "Boulevard of Broken Dreams" and "Time of Your Life," which ended in a hailstorm of confetti.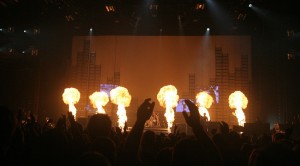 Opening the show was New York rock band The Bravery, which performed such current songs as "Believe" and "Bad Sun." The group also performed a song from its upcoming album, which is being recorded at an old church in upstate New York.
The Green Day tour is a nice gig for the band, offering loads of exposure. The set was disappointing, however. Frontman Sam Endicott often sang in an unappealing wail, and the band's sound was cluttered and unfocused.
Here's the set list for Green Day, which differed slightly from what was given to media before the show:
Song of the Century
21st Century Breakdown
Know Your Enemy
East Jesus Nowhere
Holiday
Static Age
Before the Lobotomy
Are We the Waiting
St. Jimmy
Geek Stink Breath
Hitchin' A Ride
Brain Stew
Jaded
Longview
Basket Case
She
King For A Day, Shout and Stand by Me (medley)
21 Guns
American Eulogy
Encore:
American Idiot
Jesus Of Suburbia
Boulevard Of Broken Dreams
Minority
Good Riddance (Time of Your Life)