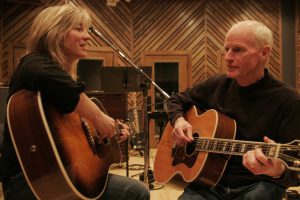 By MIKEL TOOMBS
When we talk Memphis blues and soul, Sid Selvidge's name rarely comes up. And yet the singer-songwriter, a native of Greenville, Miss., released his 1969 debut album, "Portrait," on the city's fabled Stax Records (via its Enterprise imprint).
"His voice is an astonishing instrument," New York Times critic Robert Palmer once wrote. "Cool and liquid with a range of several octaves."
Selvidge also joined with musician/producer Jim Dickinson in Memphis' legendary Mudboy and ran (literally) with Alex Chilton (The Box Tops, Big Star), a jogging buddy. Sadly, both those talents are no longer with us.
Selvidge, on the other hand, is very much alive, and you can see him perform at 8 p.m. Thursday, July 8, when he makes himself at home (you'll see when you get there) in Seattle at Empty Sea Studios, 6300 Phinney Ave. (Tickets are $20; to purchase click here.) Selvidge will be joined by Amy Speace, who's signed to Judy Collins' indie label, Wildflower Records.
Speace shows up at key moments, hinting at a young Joan Baez, on Selvidge's new album, "I Should Be Blue" (Archer Records). The gorgeous recording plays out in unsophisticated time, thanks in no small part to the sweetly Southern production of sympathetic Don Dixon. Tellingly, the opener, Tom T. Hall's "That's How I Got to Memphis," finds Selvidge, whose affecting vocal recalls Biloxi-bred Jesse Winchester, accompanied only by Dixon's bass and his own acoustic guitar.
It's not surprising that "I Should Be Blue" betrays Selvidge's roots in the '60s, most delightfully on a Stax-styled remake of Donovan's "Catch the Wind," a duet with Speace (yes, Baez once recorded the song, with sister Mimi Farina).
And along with moving covers of Townes Van Zandt's "I'll Be Here in the Morning" (another duet) and Tim Hardin's "Don't Make Promises (You Can't Keep)" and a couple of Selvidge originals, there's an appropriately funky reprise of "You're Gonna Look Just Like a Monkey (When You Get Old)," borrowing its arrangement from Memphis bluesman Walter "Furry" Lewis, the young Selvidge's mentor.
EDITOR'S NOTE: Mikel Toombs, who writes a weekly music column for the San Diego News Network, is an occasional contributor to GeneStout.com. Read his recent review of the Steve Earle and Joe Ely concert at the Woodland Park Zoo here.