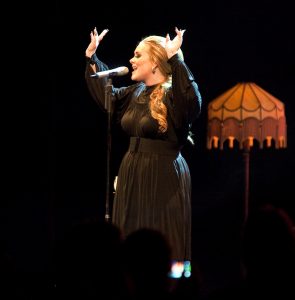 By MIKEL TOOMBS
Singer Adele canceled her June concert in Seattle, complaining of laryngitis. Now we have a good idea why.
Friday night (Aug. 12) in a sold-out show at Seattle's Paramount Theatre, the British neo-soulstress, who doubles (triples?) as a gay icon and plus-size role model, did more than exercise her powerful voice. The North Londoner also chatted incessantly, often cattily, between songs, accenting her rapid-fire, often-impenetrable commentary with one of the most wicked laughs imaginable.
Adele's delightful personality ("I'm trying to be a lady," she said at one point, "but I'm not really enjoying it") helps explain the phenomenal global success of her second album, "21" ("19" was her first; she's 23 now). Its Wikipedia entry lists 17 countries where she charted at No. 1, including Brazil and Croatia, as well as offering an analysis of its "song structure and lyrical themes."
And, yes, her lyrical themes (well, theme) seem yet more instrumental to her triumph. Her intensely personal lyrics struck a resounding chord Friday with a singalong version of the piano ballad "Someone Like You," even if the otherwise deeply affecting song suffers from a remarkably clunky chorus.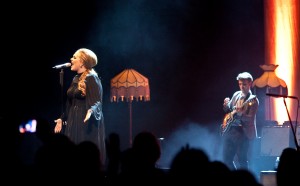 Adele's lyrics tend to feature, well, far more heart than art, falling prey to the random metaphor. And her taste in cover songs is similarly more drippy than trippy; introducing a version of The Cure's "Love Song" (in an arrangement intended for Barbra Streisand, Adele professed), she mentioned that at one time her young mother was obsessed with the now-late Jeff Buckley, but did she sing a Buckley song?
The singer scored better on everybody-clap-your-hands renditions of the dishy "Rumour Has It" and especially the closing "Rolling in the Deep," which Adele explained had its roots in rockabilly queen Wanda Jackson's "Funnel of Love."
Happily, the ever-vital Jackson, now 73, was on hand to open the show. Introduced by Billy Joe Huels (his Seattle band, The Dusty 45s, has been backing Jackson), as "the first lady of rock 'n' roll," the singer earned the ultimate compliment from a teenaged Adele fan in the audience: "She's awesome!"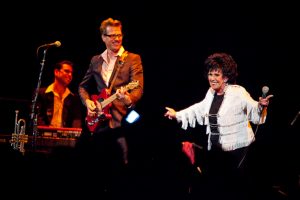 Jackson knows a bit about inexplicable international hits, as her 1958 "Fujiyama Mama" ("I can cause destruction, just like an atom bomb") went to No. 1 in Japan. And like Adele she paid tribute to the late-too-soon Amy Winehouse ("She inspired me," Adele said) with an "age-appropriate" version of "You Know I'm No Good," from her current album produced by Jack White.
Watch a video of Adele performing "Rolling in the Deep" by following this link.
(EDITOR'S NOTE: Mikel Toombs is a frequent contributor to GeneStout.com. Read his recent review of Eilen Jewell's new album here.)