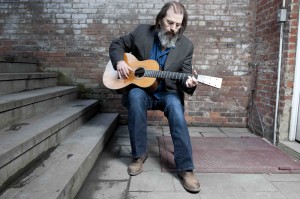 By MIKEL TOOMBS
Wednesday (June 30) was the evening of the Texas troubadour at ZooTunes, the Woodland Park Zoo's summer concert series whose 2010 season had been kicked off three days before (by the decidedly less gritty, if prettier, Jewel), and non-present company was not excluded.
Solo, acoustic sets by Steve Earle and Joe Ely were strong on original material, from Earle's vivid "Copperhead Road" to Ely's unreliably narrated tall tale "Me and Billy the Kid" ("I didn't like the way he parked his Hummer"). But opener Ely closed his set by paying tribute to still-vibrant singer-songwriter Billy Joe Shaver, as well as recalling that fateful day in 1968 when he gave a ride, from one end of Lubbock to the other, to Townes Van Zandt, who rewarded him with a copy of his debut LP.
Earle made an even more extensive tribute to the "migratory beast," who died in 1992, in the form of his most recent album, "Townes," which won a Grammy Award this year. "It's a beautiful thing," Ely offered.
"I had a friend who was a teacher and his name was Townes," Earle said. He elaborated by remembering his initial encounter with Van Zandt, who each year would ride his Aspen-stabled horse, Amigo, over the mountain to Crested Butte, Colo. "I was 17 years old when I met Townes and I thought it was the coolest thing I ever heard. I'm 55 now and I still think it's the coolest thing I ever heard."
His reminiscence was in the form of a talking blues, which brought to mind an even earlier folk icon: "Come back, Woody Guthrie," Earle sang on his set-opener, "Christmas in Washington."
Earle seems to have reconnected with his folk roots since moving to New York City a few years back (sometimes, it takes a Greenwich Village), and his generous, curfew-skirting performance was braced by Dylanesque harmonica and laced with politics.
"I have to do this," he said on two occasions, introducing a song, "Rich Man's War," about "just another poor boy off to fight a rich man's war," and another, "City of Immigrants," that he dedicated to "all those assholes in Arizona." ("Hope I didn't scare any of the critters," he quipped later.)
The usually rough-hewn Earle turned poignant on "my one lullaby," composed for first-born son Justin Townes Earle (now 28 and a delightful musician in his own right) and recycled for 12-week-old John Henry Earle. Equally touching was "This City," which he was asked to write for his role as a street singer on the just-concluded first season of "Treme," the acclaimed HBO series that celebrates present-day New Orleans. "This city," he sang, "won't ever drown."
Did you attend the concert? What did you think? You can comment below.
EDITOR'S NOTE: Mikel Toombs, who writes a weekly music column for the San Diego News Network, is a frequent contributor to GeneStout.com. Read his recent story on Sarah Jaffe here.