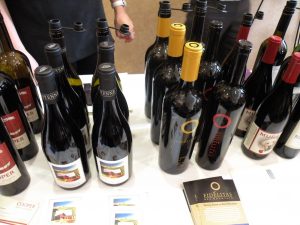 By GENE STOUT
Walla Walla got its name from a Native American phrase meaning "place of many waters." Today, it's a place of many wines.
The Walla Walla Valley, extending into Oregon, is home to more than 100 wineries and is one of the biggest wine-producing areas of Washington State, which is among the top five states for U.S. wine production. Walla Walla is one of the state's most important American Viticultural Areas (AVAs).
So it was no surprise that the town in the southeastern corner of the state was chosen (by the bloggers themselves) as the destination for the 2010 North American Wine Bloggers Conference, a new media gathering that drew more than 300 wine buffs — myself among them — from around the country and around the world. The conference was Friday through Sunday (June 25-27) at the historic Marcus Whitman Hotel.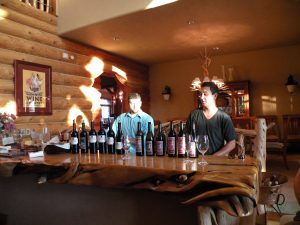 "Rock star" was a phrase used frequently during the conference — sometimes in reference to writers (such as wine critics Steve Heimoff, Paul Gregutt and Lettie Teague) and sometimes in reference to winemakers (such as David "Merf" Merfeld of Northstar and Charles Smith of K Vintners).
But some of the participants who made the journey to Walla Walla were fairly new to wine writing, and some of the breakout sessions over the long weekend were geared to learning how to blog more effectively. Blogging 101, if you will.
Among the top bloggers was Joe Roberts of 1WineDude.com, who won the 2010 conference award for best overall wine blog.
Seasoned bloggers as well as newbies tasted hundreds of wines, tramped through vineyards in glorious sunshine and visited many of the top wineries of Walla Walla, among them Leonetti Cellar, Pepper Bridge Winery and Basel Cellars Estate Winery, a sprawling, 87-acre property fit for a king.
Why did I go? The short answer is that in addition to writing about music, I'm a student of wine marketing at the Northwest Wine Academy. The conference combined a number of my interests: writing, new media, wine, food and travel.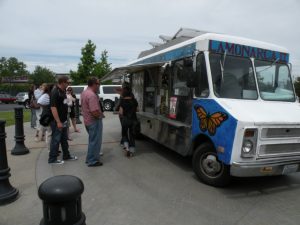 I was not disappointed. For a fairly modest registration fee and the cost of three nights of lodging, I tasted dozens of amazing wines — in Walla Walla as well as the Red Mountain AVA in Benton City — and enjoyed the camaraderie of a broad demographic group of people passionate about wine. And local wineries were gracious and welcoming. (My wife, Gretchen Sorensen, served as photographer for the weekend.)
The third annual event was produced by Open Wine Consortium and Zephyr Wine Adventures. Next year's event will be June 22-24 in Charlottesville, Va. Read more about it here.
We arrived at the 2010 conference Thursday night (June 24) for a private, invitational tasting at Basel Cellars Estate Winery. The enormous mansion is a 13,800-square-foot lodge surrounded by gardens, waterfalls, streams and a swimming pool. The home looks out on the Blue Mountains. It's like something out of "Lifestyles of the Rich and Famous." We sipped some superb wines and snacked on deli sandwiches in the home's "man cave," an enormous playroom decorated in a Harley-Davidson motif.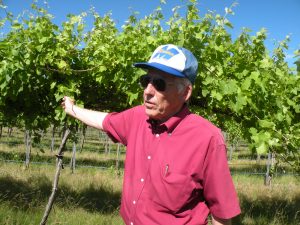 On the first official day of the conference (June 25), a "taco truck lunch" sponsored by the Yakima Valley Visitors and Convention Bureau featured three local taco trucks that ordinarily cater to the Hispanic community.
Steve Heimoff, the West Coast editor for Wine Enthusiast magazine, delivered a keynote speech that shared anecdotes from his long career and comparisons between print journalism and today's blogging community. Heimoff was amusing, insightful and very open about his career as one of the top guns of wine criticism.
Later that afternoon, the first of two weekend "live wine blogging" sessions (one for white wines, another for reds) was described as "wine speed dating." Participants gathered at tables in the hotel's main ballroom, listened to five-minute presentations from winemakers while tasting one of their wines and then tweeted about the experience before another winery took its turn. Tweets were displayed on a large video screen. It was fun — and pretty intense.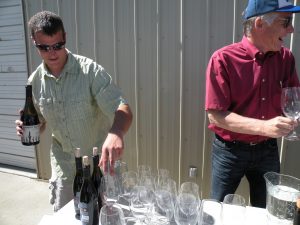 Ste. Michelle Wine Estates was host of Friday night's dinner, which featured a 2006 Columbia Valley Merlot and 2006 Walla Walla Valley Merlot from Northstar Winery and a beefy, scrumptious dinner prepared by chef John Sarich, culinary director for Chateau Ste. Michelle and author of "Chef in the Vineyard." Winery owners served as hosts at a number of tables; among them was Steve Kenyon of Otis Kenyon Wines.
The evening closed with a downtown "walkabout" of nearly a dozen wine bars and clubs with the Walla Walla Valley Wine Alliance. The highlight was a Cramps-style rockabilly show by Big John Bates and the Voodoo Dollz at a warehouse-style club that reminded me of similar venues in Austin, Texas, during the South by Southwest music festival. Host of the event was K Vintners and Charles Smith, a former European rock promoter who is now one of the stars of the Walla Walla winemaking community.
One of the most popular breakout sessions over the weekend was a talk by geologist Dr. Kevin Pogue, who enthralled an early morning audience on Saturday with a discussion of the unimaginably powerful pre-historic floods that shaped the valley's rolling hills and deposited the rich soils that make the area so fertile for growing grapes and other crops.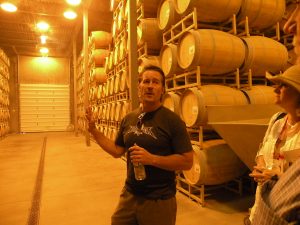 The floods were followed by deposits of volcanic ash from ancient Mount Mazama, which formed Oregon's Crater Lake.
Pogue also talked about "terroir," the term referring to the soil, weather and growing practices that distinguish one AVA or appellation from another. Pogue has been jokingly called a "terroir-ist," but he was one of many that bloggers met over the weekend. (By the way, terroir is pronounced tare-WAH, but you probably know that.)
Afterward, participants split into groups of 15 and traveled in yellow school buses to different local wineries for tours, tastings and lunch. Buses fanned out in all directions in the Walla Walla Valley, and none of us knew where we were going. It was dubbed the "magical mystery tour."
Our bus stopped first at Les Collines Vineyard, named for the foothills south of downtown Walla Walla. Owner Norm McKibben, whom some have affectionately called "The Godfather" of local vineyard owners, led us on a walking tour of his vines, followed by a tasting with his son, vineyard manager Shane McKibben.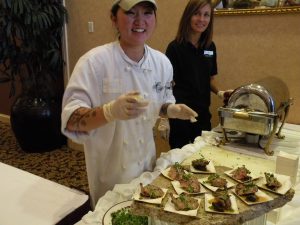 From Les Collines, we drove to Reininger Winery, where co-owner Chuck Reininger and fellow winemakers Ron Coleman of Tamarack Cellars and Doug Roskelley of Tero Estates presented a panel discussion about the trials and triumphs of Walla Walla winemaking. It was a fascinating Q&A session that demonstrated the community's passion for winemaking.
"We have exceptional vintages more often than other regions," Reininger said, adding, "Because so many varietals do well here, Walla Walla has an identity problem."
Coleman of Tamarack Cellars noted that the wine business has had a huge cultural impact on Walla Walla. "For years, the wine world was a shadow world," he said. "Now it's out in the open."
Being out in the open means tasting rooms, high-profile wineries, wine tourism and events such as the bloggers conference, a first for Walla Walla. The flurry of positive tweets about the valley and its wines over the weekend could pay dividends for months to come.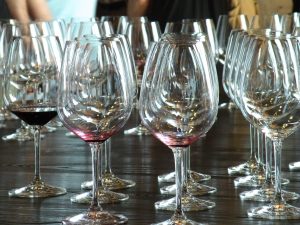 Norm McKibben, a former construction engineer who has enjoyed a distinguished second career as a grape grower, has done a great deal to improve local farming methods, trellising, composting and irrigation. Three of his vineyards — Les Collines, Pepper Bridge and Seven Hills — are certified sustainable by VINEA (the Walla Walla Valley's sustainable trust) and LIVE (Oregon's sustainable viticulture organization).
Our final stop was at Northstar Winery for a sumptuous lunch and tour with winemaker David "Merf" Merfeld. Northstar is known for its amazing Merlots, and Merfeld is developing a new world-class Merlot code-named Big Dipper. "I wanted a wine that I could drink when I retire," he quipped.
Saturday's activities concluded with a multi-course Washington Wine Commission dinner, followed by live music by local band Snap, Crackle and Pop. Host was Rias Baixas Albarino, makers of Spanish white wines.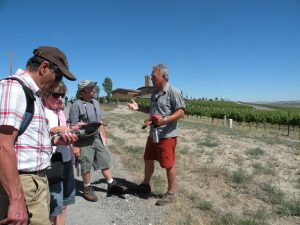 When you're tasting hundreds of wines in a three-day stretch, you really have to pace yourself. And spit. There were spit cups and buckets everywhere. Otherwise, you'd be smashed by 11 in the morning. Palate fatigue is another challenge when you're tasting hundreds of wines.
I got so accustomed to swirling glasses of wine — to open up the wine and help it breath, of course — that I caught myself doing it with my water glass.
The final day of the conference (June 27) featured such morning breakout sessions as "Top Gun Blogging" and "Bloggers, Wineries and PR Firms." The latter featured communications manager Grace Doyle of Ste. Michelle Wine Estates.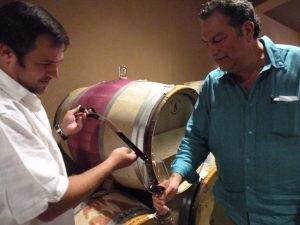 Chef Jeffrey Saad offered a fast-paced, food and wine pairing talk as a introduction to his new show next fall on the Food Network (the show doesn't have a title yet, but could become one of the hottest new shows on the network).
Saad's talk was followed by the food and wine pairing lunch, a grazing event that featured some amazing combinations. How about a 2009 Clean Slate Riesling from Mosel, Germany, paired with Ahi Poke White Soy on Apricot Namasu? Or a 2009 High Note Malbec from Uco Valley, Argentina, with Cherry Scented Duck Confit Empanadas with Mole and Avocado? People were raving.
The food and wine pairing lunch was presented by Winebow, a company that imports and distributes more than 3,000 wines. The Marcus Whitman's Chef Bear created the 10 "bites."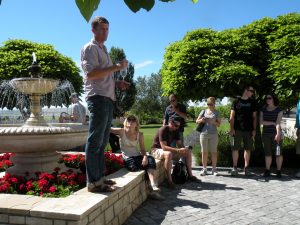 During the wrapup session, organizers announced the 2011 conference date and location and led participants in a standing ovation for the staff at the Marcus Whitman. I can't remember attending a conference and seeing so much enthusiastic support for a hotel staff. It was well-deserved.
An optional post-conference bus excursion ($35 a person) took us to the prestigious Red Mountain AVA in Benton City on a day when temperatures were approaching 90 degrees. We started at Col Solare, a joint venture between Chateau Ste. Michelle and the Antinori Family, led by vineyard manager Kevin Corliss, winemaker Marcus Notaro and manager Wendi Warner.
In smaller groups, we hiked through the "sea of vines" with Dr. Alan Busacca, a geologist and viticulturist with AlmaTerra Wines (whose slogan is ". . . inspired by terroir"). Busacca shared his vast knowledge of the region's geologic history. Red Mountain, he said, was like a boulder in the great pre-historic floods that swept over the terrain, creating eddies that deposited rich soils on which the vineyards now grow.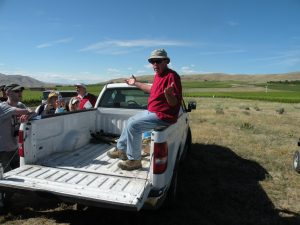 Next, we went to Hedges Family Estate, where national sales director Christophe Hedges spoke to several dozen bloggers about the AVA and the family's commitment to biodynamic farming, a philosophy proposed by Rudolf Steiner in the 1920s. "We've always marketed place over brand," he said, noting the extraordinary terroir of Red Mountain. We were then led inside for a candlelight tasting in the winery's "cave."
Jim Holmes, a pioneer of Red Mountain wines, also talked about the AVA's terroir — from the bed of his Ford pickup. "This is our visitor center," he quipped. He then warned us to watch for red ants.
Holmes, who has been dubbed "the old man on the mountain," is a former research engineer for Westinghouse whose first planting of grape vines at Red Mountain was in 1975. Holmes operates Ciel du Cheval Vineyard.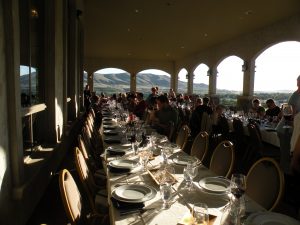 He soon had us forming balls of dirt in our hands to demonstrate the properties of the area's sandy loam. It was among the weekend's more unusual hands-on activities.
We ended the day with a "cave" tour, a "grand tasting" and dinner at Terra Blanca Winery and Estate Vineyards with owners Keith and ReNae Pilgrim and fellow Red Mountain winemakers. Dinner on the veranda at sunset (with the Horse Heaven Hills in the distance) featured a sumptuous, multi-course, Spanish-style dinner (with barbecued ribs) prepared by Frank Magana, executive chef at Picazo 7Seventeen Restaurant and Wine Bar in Prosser.
I'm wondering if next year's conference can top that!
For my previous story on the bloggers conference, click here.