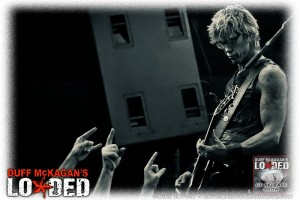 Duff McKagan, a Seattle native who went on to fame with Guns N' Roses and Velvet Revolver, makes his debut as a radio host on KISW, 99.9 FM, at 10 a.m. May 12.
McKagan's new hour-long show, "Radio Loaded," takes its name from from his new band, Loaded, which recently released an aggressive new punk-metal album, "Sick." The album's first single, "Flatline," is doing well on rock radio.
"I've always had a lot of fun as a guest on the air at KISW," McKagan says. "We figured it was about time they completely turned the reins over to me for an hour."
Immediately after the May 12 show, listeners can download the program, as well as bonus material, at the KISW Web site.
McKagan also writes the weekly "Duffonomics" financial column for Playboy.com, as well as the "Reverb" column for Seattle Weekly.
McKagan and Loaded introduced the songs from "Sick" at a blistering live show and CD release party in early April at the Crocodile Cafe. Here's a photo of McKagan by Seattle photographer Mike Savoia.
Loaded will perform in Europe in June, playing club and festival dates.