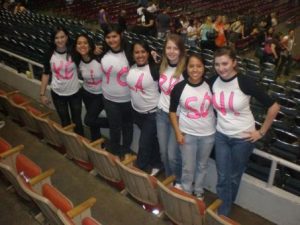 Texas native Kelly Clarkson is among the most successful "American Idol" winners. And, of course, she was the first, taking the prize in 2002.
Despite many ups and downs — and a genuine career crisis in 2007 when she released "My December" despite label objections — Clarkson has survived and thrived in the pop universe. Her current tour brings her to WaMu Theater Tuesday night (Nov. 24).
Read my review of Clarkson's 2006 concert at White River Amphitheatre. The following year, the singer was forced to cancel a July show at KeyArena.
Clarkson's current album, "All I Ever Wanted," is the most diverse of her career.
"I never want to make just one sound," says Clarkson on her Web site. "The worst thing to me is when all the songs on an album sound the same. If you have that choice, why wouldn't you want to bring out all the different sides and colors of your personality?"
Read a recent review of her current album, "All I Ever Wanted," in Rolling Stone.
Clarkson performs at 7:30 p.m. at WaMu. Guest performers include Eric Hutchinson and Parachute. Tickets: $14.99-$57.50 at Ticketmaster (VIP packaages also available).
Here's a video of Clarkson's "My Life Would Suck Without You."