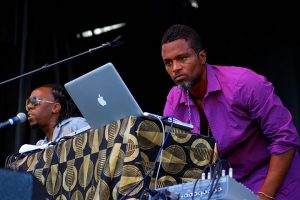 The 2010 Capitol Hill Block Party may have been one of the most photographed music festivals of the year in Seattle.
More than 40 photographers requested official passes to shoot the festival.
Here's a selection of photos by Kam Martin, who snapped pics of Chris Pureka, Fences, Unnatural Helpers, Shabazz Palaces, Yeasayer and other bands during the festival July 23-25 in the Pike Street nightclub district on Capitol Hill. Here's a link to Martin's Web site.
CHBP attracted huge crowds over a hot July weekend with one of the best music lineups in its history. A three-day festival for the first time, the festival clearly hit its stride as one of the city's top urban music festivals.
Here's a link to the Block Party Web site.
For another photo gallery on the festival, click here.